McLaren 570S Sprint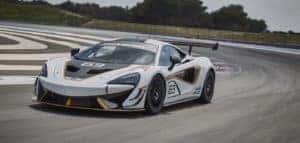 SPRINTING AHEAD
Built around the carbon fibre MonoCell II chassis from the 570S Coupé road car and 570S GT4, the Sprint is both light and exceptionally strong. Power comes from the same 3.8-litre twin-turbo V8 engine fitted to the road car, but is optimized for on-track performance, and delivers its power through a seven-speed dual-clutch transmission. Pirelli slick tyres wrap centre-lock wheels, while the coilover suspension can be adjusted to suit all tracks and drivers.
'We've set up the 570S Sprint to feel just like the GT4 car, but with a focus on helping the less experienced driver,' says McLaren Chief Test Driver Chris Goodwin. 'It has the same aerodynamic upgrades including an extended splitter and an enhanced aerodynamic package.' Inside, a racing seat is cocooned by a roll cage, while driving modes can be switched between Wet, Sport and Track settings, each with different levels of electronic stability control assistance.
'Exactly the same experience and know-how has gone into the 570S Sprint that we put into our race-winning 650S GT3 and the McLaren P1™ GTR,' reveals Chris. 'You could use it at track events and have an awful lot of fun, but it can also be made eligible for various championship series around the world, which opens up all sorts of possibilities.'
Contact McLaren Houston below for more information.