McLaren 570S GT4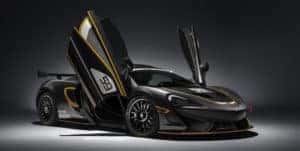 Fine-Tuned in the Heat of Real Competition
McLaren was born on the circuit, so the next track car is never far away. However, even by our standards the launch of the 570S GT4 is a landmark achievement.
The track-only 570S GT4 shares the carbon fibre MonoCell II chassis architecture with the other models in the Sports Series, marking the first time the technology has been made available in the GT4 category. The race-derived material is of clear benefit — giving the GT4 the ultimate advantage in safety, strength, and weight.
The McLaren 570S GT4 is powered by a 3.8-litre twin-turbocharged V8 engine, paired with a seven-speed seamless shift gearbox, which transfers power to the track through the rear wheels. In unrestricted form, expect 562bhp and 443lb-ft of torque, but may be altered when race restrictions are added.
Contact McLaren Houston below for more information.